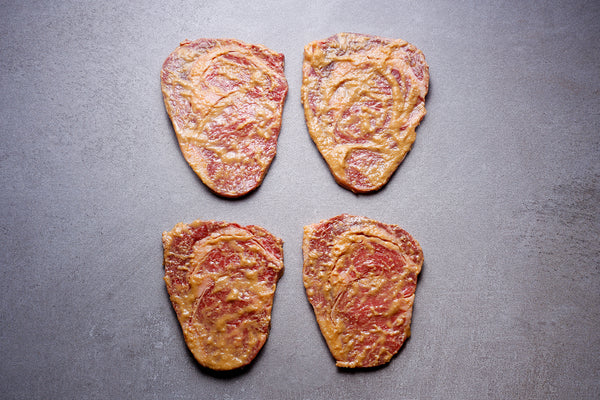 Miso and Lime Marinated Minute Ribeye Steaks
Beef
We've marinated our grass-fed minute ribeye steaks with our zesty lime and miso marinate. Ready to chuck straight on the BBQ, these beauties only take a couple of minutes on each side - perfect for adding an extra zing to your steak night!
Please note, this product requires 48 hours notice.
Our grass-fed beef is either Aberdeen Angus or Hereford from Ayrshire in Scotland, Wexford County, in Ireland, Norfolk and Suffolk. Sourced from small scale farmers who slowly rear their herds to the highest standard, on an hormone-free grass-fed diet.
We select our beef for its marbling and fat cover and dry age our prime cuts in our Himalayan salt chamber for a minimum of 28 days.
Allergen Advice: For Allergens, including cereals containing gluten, see highlighted ingredients. Also may contain Gluten, Crustaceans, Egg, Peanut, Milk, Nuts, Mustard, Sesame, Celery, Soya, Sulphites and Molluscs.
Miso & lime marinade ingredients: white miso paste (Soybean), peeled ginger, peeled garlic, lime juice, soy sauce (Soybean & Wheat), white wine vinegar (Sulphites), vegetable oil
soybeans
sulphites
cereals
containing
gluten