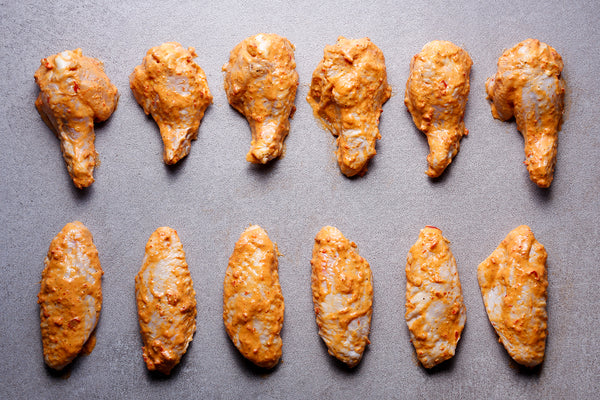 Peri Peri Marinated Chicken Wings
Chicken
The perfect finger food, our peri peri marinated wings are hot showstopper, sure to add an extra kick to your next BBQ! Our free-range chicken wings are lathered in our handmade peri peri marinade, ready to put straight on the grill for a few minutes and share around to your BBQ guests.
Please note, this product requires 48 hours notice.
Our chickens are free range and slow reared to the highest welfare
standards. Their natural, hormone-free diet consists of responsibly sourced local
grains and cereals, which translates directly to the tenderness of their meat.
Allergen Advice: For Allergens, including cereals containing gluten, see highlighted ingredients. Also may contain Gluten, Crustaceans, Egg, Peanut, Milk, Nuts, Mustard, Sesame, Celery, Soya, Sulphites and Molluscs.
Peri peri marinade ingredients: Dried red chilli, fresh red chilli, red wine vinegar (Sulphites), lemon juice, garlic, shallot, piri piri seasoning (garlic, onion, chilli, black pepper, sea salt, basil, oregano, coriander, bay leaf)
Sulphites