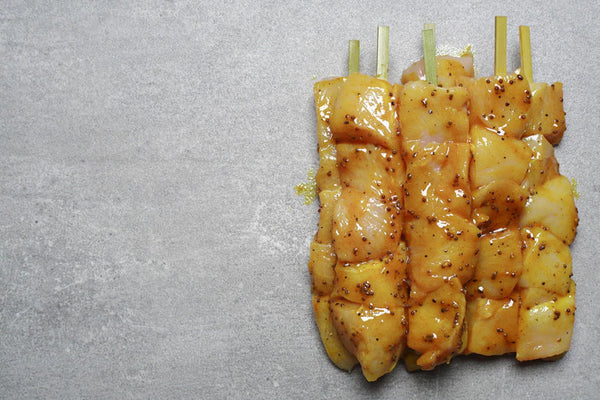 Chicken Mustard Brochettes
Chicken
Tender chicken breast diced and marinated in a mustard and black pepper sauce. Perfect for the oven or grilling.
Min Weight per brochette 140 grams. 
Please note, this product requires 48 hours notice.
Roast in a preheated oven or pop under the grill.
Our chickens are free range and slow reared to the highest welfare
standards. Their natural, hormone-free diet consists of responsibly sourced local
grains and cereals, which translates directly to the tenderness of their meat.
Allergen Advice: For Allergens, including cereals containing gluten, see highlighted ingredients. Also may contain Gluten, Crustaceans, Egg, Peanut, Milk, Nuts, Mustard, Sesame, Celery, Soya, Sulphites and Molluscs.
Ingredients: Chicken, Vegetable oil, MUSTARD SEED, Pepper, Turmeric, Ginger, Coriander, Nutmeg, Flavourings (Mustard), Salt, Vegetables (Onion, Garlic) Preservative, Sodium Diactate, Flavour Enhancer, Mono Sodium Glutamate
mustard