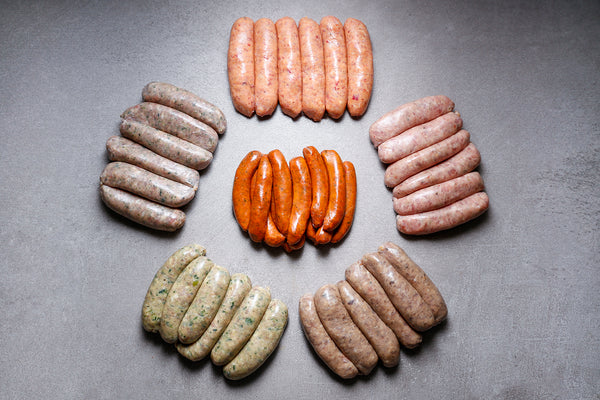 BBQ Banger Box
Boxes
From the classic Cumberland to a spicy Hot Chilli Pork, there's a sausage in this box for everyone. We've put together a banging BBQ Banger Box just in time for the BBQ season, which includes six of each of HG's favourite sizzling sausages, perfect for the big family BBQ!
Box contains:
6 x Caramelised Onion
6 x Cumberland
6 x Fennel and Chilli
6 x Hot Chilli Pork
6 x Pork and Leek
12 x Lamb Merguez
Allergen Advice: For Allergens, including cereals containing gluten, see highlighted ingredients. Also may contain Gluten, Crustaceans, Egg, Peanut, Milk, Nuts, Mustard, Sesame, Celery, Soya, Sulphites and Molluscs.
Ingredients:
Caramelised Onion: Free Range Pork [Pork Belly, Pork Shoulder, Pork Fat], Lucas Gold Pork Seasoning Pin Seasoning [Salt, Wheat Flour (Calcium Carbonate, Iron, Niacin, Thiamin), Rusk (Wheat), Salt, Raising agent (E503), Stabiliser (E451), Dextrose, Spices, Preservative (E221 (Sulphites)), Antioxidant (E300)], Black Pepper, Red Onion, Breadcrumbs (Gluten) [Wheat Flour, Calcium Carbonate, Iron, Niacin, Thiamin, Salt, Yeast], Caramelised Onion Chutney [Onion, Sugar, Balsamic Vinegar (Wine Vinegar (Sulphites), Grape Must, Colour (Ammonia Caramel), Preservative (Preservative)), Muscovado Sugar, Sunflower Oil, Spices, Concentrated Lemon Juice, Garlic Powder, Acidity regulator (Citric Acid), Salt]
Cumberland: Pork (84%) [Pork Belly, Pork Shoulder, Pork Fat], Wheat Flour, Parsley, Yeast, Natural Hog Casing, Salt, Herbs, Spices, Rusk (Wheat), Yeast Extract, Dextrose, Preservative (E221 (Sulphites)), Antioxidant (E300), Spice Extracts, Herb Extracts
Fennel and Chilli: Pork (90%) [Pork Belly, Pork Shoulder, Pork Fat], Breadrusk (5.4%) [WheatFlour, Calcium Carbonate, Iron, Niacin, Thiamin, Salt (Anti-Caking Agent), Yeast], Seasoning [Salt, Wheat Flour (Calcium Carbonate, Iron, Niacin, Thiamin), Rusk (Wheat), Salt, Raising agent (E503), Stabiliser (E451), Dextrose, Spices, Preservative (E221 (Sulphites)), Antioxidant (E300)], Fennel Seeds (0.5%), Red Chilli Flakes (0.4%), Ground Black Pepper (0.2%), Garlic Granules (0.2%) Natural Hog Casing
Pork and Leek: Pork [Pork Belly, Pork Shoulder, Pork Fat], Lucas Pork Gold Seasoning [Salt, WheatFlour (Calcium Carbonate, Iron, Niacin, Thiamin), Rusk (Wheat), Wheat Flour (Calcium Carbonate, Iron, Niacin, Thiamin), Salt, E503, Dextrose, Stabiliser (Stabiliser), White Pepper, Coriander, Ginger, Preservative (E221 (Sulphites)), Flavouring, Antioxidant (Antioxidant), Colour (E120)], Fresh Chive, Fresh Leeks, Dried Leeks, Cracked Black Pepper, Ground Black Pepper, Natural Hog Casing, Breadrusk 4 [WheatFlour, Calcium Carbonate, Iron, Niacin, Thiamin, Salt (Anti-Caking Agent), Yeast]
Lamb Merguez: Beef Trim, Lamb Trim, Harissa Paste [Paprika, Chilli, Sunflower Oil, Garlic, Mixed Spice, Citric Acid], Seasoning [Rusk (Wheat) (WheatFlour (Calcium Carbonate, Iron, Niacin, Thiamin)), Salt, Raising Agent, Spices (Cinnamon, Clove, Paprika, Red Chilli Pepper), Sugar, Herbs (Oregano, Parsley), Yeast Extract, E451, Flavourings, E223 (Sulphites), Sunflower Oil, E392], Harissa Rub
cereals
containing
gluten
sulphites