Limited Availability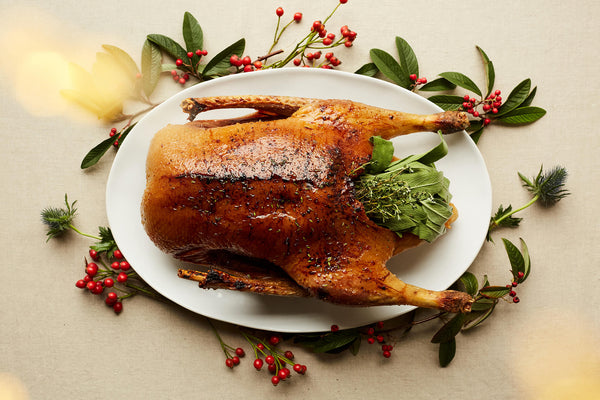 Free Range Goose
Goose
Although many of us associate the traditional Christmas dinner with a roast turkey, our free-range geese are a fantastic option for your festive feast. These glorious geese have been raised outdoors, left of roam on 6 acres of pastures and fed on a natural diet of homegrown wheat. Their impressive fat covering protects their lean muscle, resulting in a rich, succulent bird perfect as a Thanksgiving and Christmas centrepiece surrounded by beautifully crispy goose fat roasted potatoes.

Allow 800g per person.
Please note, this product requires 48 hours notice.
This product will be available for collection and local delivery between 20th-25th November and 1st December - 30th December (29th for DPD orders)
Goose
Total Cooking Times
4kg
1hr 20mins
5kg
1hr 40mins
6kg
2hrs
Our award-winning geese from Goodman's are fed a specially prepared ration alongside home-grown wheat, helping to produce a succulent, tender bird for the table.

The geese are raised indoors until about 4 weeks old when they are let outside to graze in large grassland paddocks. They are dry-plucked and hung for 7-10 days in cold rooms to help the meat mature.