Braised Pork Cheeks with Pumpkin Puree
Tender slow cooked pork cheeks with a creamy squash puree. Comfort food at its best.
Tender slow cooked pork cheeks with a creamy squash puree. Comfort food at its best.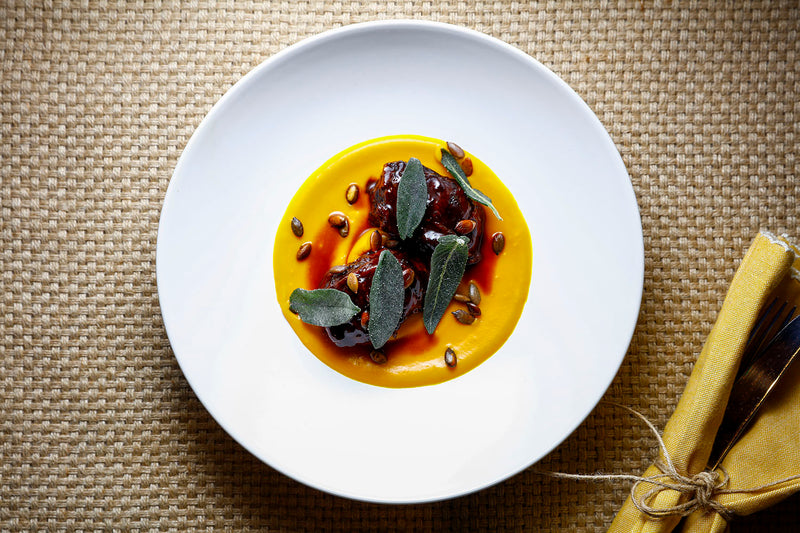 Cooking Method
---
First, season your pork cheeks with salt and pepper before searing them in a pan on both sides until they are golden brown. Then, remove the cheeks from the pan and place them in an oven proof pot.
Next, peel and roughly chop the shallots, crush the garlic, and add some of the sage stalks to the same pan you used to sear the cheeks, caramelising the vegetables over medium heat. Pour the white wine and chicken stock into the pan and bring to boil. 
Pour the cooking liquor over the cheeks ensuring they are fully submerged, topping up with water if needed. Cook the cheeks in a preheated oven at 140°C fan/gas mark 1/2 for 2.5-3 hours until they are tender, then leave them to cool in their cooking liquor for approximately half an hour. 
Once cooled, remove the cheeks from the pot and pass the liquor through a fine sieve into a saucepan, then reduce it until it reaches a glazing consistency. 
For the puree, start by peeling the squash and cutting it in half lengthwise, then remove the seeds using a spoon. Dice the squash into small cubes and drizzle with olive oil.
Roast in a baking tray at 160°C fan/gas mark 3 for roughly 30-35 minutes until tender and slightly golden. Once ready, transfer the squash pieces to a blender and blitz them quickly with the butter and a few splashes of water if needed. Next, season with salt and black pepper and leave until ready to assemble the dish.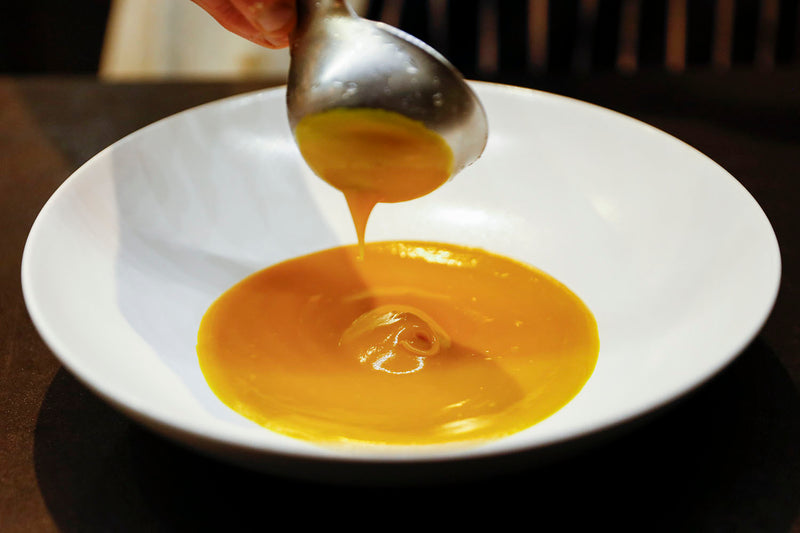 Next, heat the vegetable oil to 160°C/320°F and carefully drop in the pumpkin seeds. Use a spoon to keep the oil circulating until the seeds begin to puff. Remove them with a slotted spoon, pat them dry on a tray with kitchen paper and season them with salt as soon as you remove them from the oil.
Repeat the process for the picked sage leaves, but please note these will only take 5-10 seconds. 
For the final dish, heat up the squash puree and gently warm the cheeks in the stock. Then, place some of the puree on a plate with the sticky glazed cheeks and finally garnish with the crispy sage and pumpkin seeds.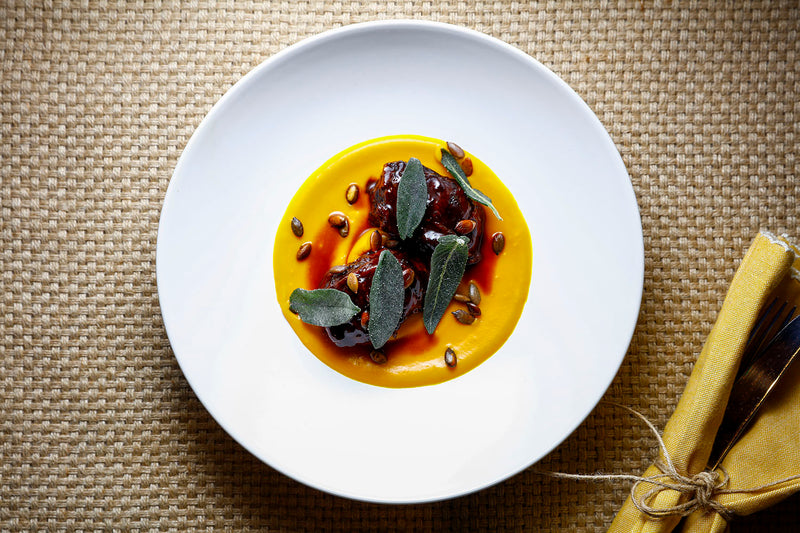 Recipes we think you'll love: