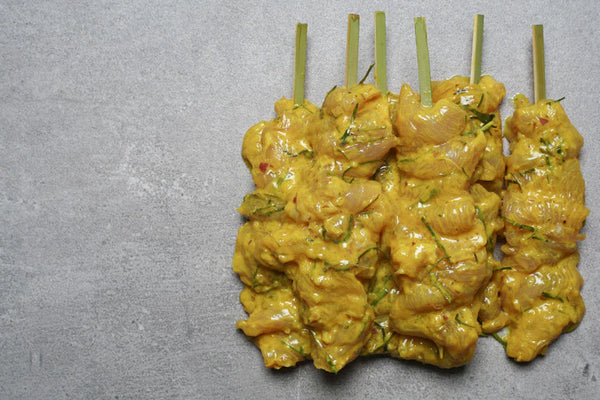 Chicken Satay Brochettes
Chicken
Tender chicken breast marinated in a handmade coconut, lemongrass and turmeric satay sauce.
Each brochette is a minimum of 130g in weight.
Please note, this product requires 48 hours notice.
HG Walter recommends that all meat products are cooked thoroughly.
Instructions: Either remove from the sticks and cook in a frying pan for 12 minutes (they work great in stir fries!) or roast in the oven for 18 minutes.
We have given you these cooking instructions as a guide only.
Our chickens are free range and slow reared to the highest welfare
standards. Their natural, hormone-free diet consists of responsibly sourced local
grains and cereals, which translates directly to the tenderness of their meat.
Allergen Advice: For Allergens, including cereals containing gluten, see highlighted ingredients. Also may contain Gluten, Crustaceans, Egg, Peanut, Milk, Nuts, Mustard, Sesame, Celery, Soya, Sulphites and Molluscs.
Ingredients: Chicken Breast, Vegetable Oil, Coconut Milk, Lemon Grass, Lime Leaf, Shallot, Sugar, Turmeric, Salt, Curry Powder