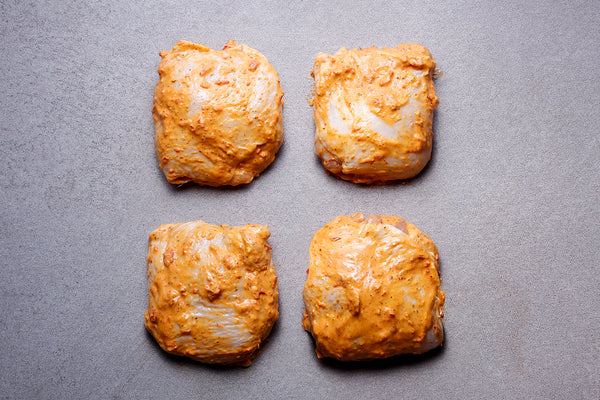 Peri Peri Marinated Boneless Skin On Chicken Thighs
Chicken
Spice up your BBQ with our juicy free-range chicken thighs, marinated in our fiery peri peri marinade. These beauties are epic on the barbie, and the spicy crispy chicken skin will leave a flavour explosion on your palate - finger licking stuff for sure!
Please note, this product requires 48 hours notice.
Our chickens are free range and slow reared to the highest welfare
standards. Their natural, hormone-free diet consists of responsibly sourced local
grains and cereals, which translates directly to the tenderness of their meat.
Allergen Advice: For Allergens, including cereals containing gluten, see highlighted ingredients. Also may contain Gluten, Crustaceans, Egg, Peanut, Milk, Nuts, Mustard, Sesame, Celery, Soya, Sulphites and Molluscs.
Peri peri marinade ingredients: Dried red chilli, fresh red chilli, red wine vinegar (Sulphites), lemon juice, garlic, shallot, piri piri seasoning (garlic, onion, chilli, black pepper, sea salt, basil, oregano, coriander, bay leaf)
Sulphites