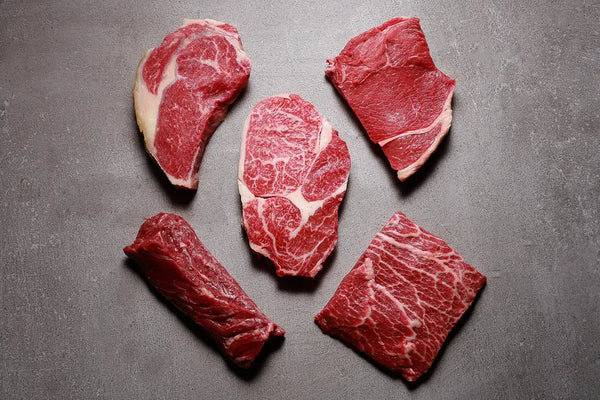 Grass-Fed Beef Steak Surprise Box
Hamper
Who doesn't love a steak surprise? Ideal for those who like to take the effort out of choosing and fancy themselves as someone who can knock something up using what they have. Each of these steak boxes will contain 1kg of grass-fed beef steaks. From sirloin to onglet and rump to flat iron, you can expect a real mix of meat.

Each box weighs 1kg and will contain a random selection of steaks.
Our grass-fed beef is either Aberdeen Angus or Hereford from Ayrshire in Scotland, Wexford County, in Ireland, Norfolk and Suffolk. Sourced from small scale farmers who slowly rear their herds to the highest standard, on an hormone-free grass-fed diet.
We select our beef for its marbling and fat cover and dry age our prime cuts in our Himalayan salt chamber for a minimum of 28 days.