Limited Availability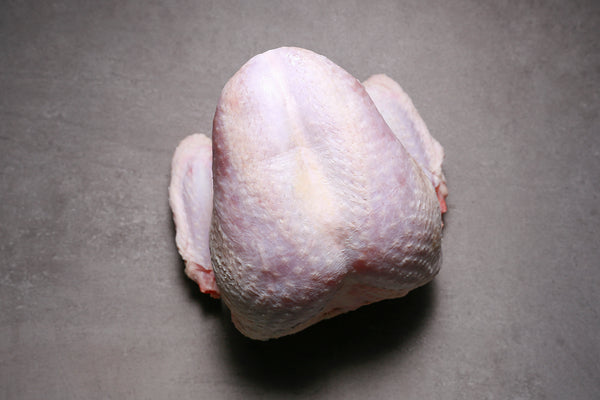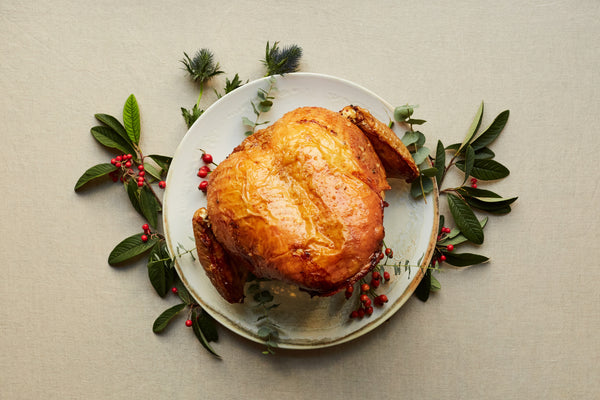 Turkey Crown on the Bone
Turkey
The turkey crown has it's legs and wings removed to give you a joint of white breast meat on the bone. Ideal for a quicker roast and easy to carve, our succulent turkey crowns are perfect for a no fuss Christmas feast.

Our turkey farmers use traditional free-range farming methods to slowly rear these exceptional birds, feeding them on a natural, hormone-free diet. The birds are dry plucked and hung for a minimum of 10 days.

You can place the crown on a layer of stuffing or rub some butter beneath the skin. Or wrap the crown in bacon strips or herbs and butter before cooking. Just remember, if you're using stuffing, factor its weight into your cooking time calculation.

Please allow approximately 400-500g per person. 
This product will be available for collection and local delivery between 20th-25th November and 1st December - 30th December (29th for DPD orders)
To roast the crown, preheat the oven to 220°C / Gas mark 7, place it on a wire rack above a roasting tray and spread softened butter all over the surface of the turkey. Roast for 25 minutes, basting after 10 minutes, until the skin is beautifully caramelised and a deep golden brown. Reduce the temperature of the oven to 170°C / Gas mark 3 and cook for a further 1 ½ hours, opening the oven every 30 minutes to baste the turkey. The temperature of the turkey should reach 72°C / 162°F. You can check this with a Temperature Probe by inserting the probe into the thickest part of the breast. Alternatively you can insert a skewer and check if the juices run clear. If the juices are pink continue cooking for 10 minutes and check again. Repeat this process until the bird is cooked. Once cooked, rest the turkey for at least 30 minutes before carving.
Our Bronze Turkeys are from Goodman's Geese farm in Worcestershire, an award winning family run business. The birds are reared for 24 weeks, using an outdoor free range farming system and their diet consists of natural foods such as grass, corn and straw - all hormone and additive free!
Closer to Christmas, the Turkeys are fed a special ration to help them grow slowly and enhance the flavours of your Christmas centrepiece. All Turkeys are dry plucked by hand and hung for 10 days.