Grilled leg of lamb, warm potato salad and apricot ketchup
HG Walter
Grilled butterflied leg of lamb with a lemony potato salad with olives and capers and a homemade apricot ketchup.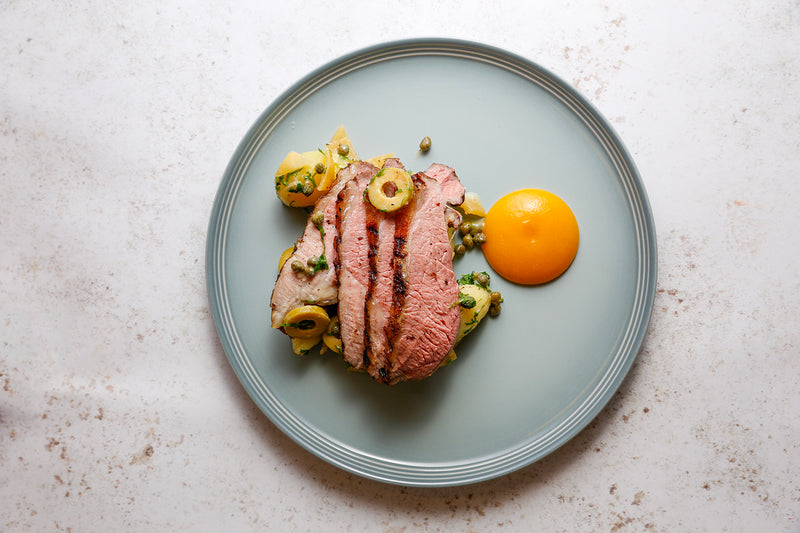 ---
First, bring the lamb up to room temperature before cooking.
Rub the lamb with olive oil and season well with salt and cracked black pepper.
Place the lamb in a large griddle pan or BBQ if possible and seal it with tin foil. Place on a baking tray and cook for 35/40 minutes at 1800g for medium.
Next, cook the potatoes in lightly seasoned water. Once cooked leave to cool slightly and peel the skin from the potatoes using a small vegetable knife and slice in half. Remove the insides from the preserved lemon and discard. Chop the skin into small pieces.
Cut the olives into rondelles (little hoops). Put in a pan with the preserved lemon, olives, capes, diced butter and sliced potatoes.
Place the fried apricots into a sauce pan and cover with cold water. Bring the pan to the boil, simmer for 30 minutes, make sure you keep the water topped up.
Drain the apricot, reserve some of their cooking liquor to loosen the puree if needed.
Blend on high power for a few minutes with the white wine vinegar and a good pinch of salt. Add a little of the cooking liquor to loosen if needed. You're aiming for a ketchup consistency. 
Make sure to rest the lamb before carving. Then plate up, serve and enjoy!