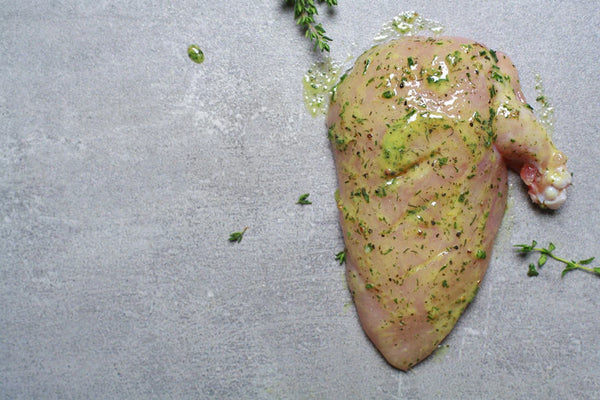 Chicken in French Garden
Chicken
Chicken breasts marinated in garlic, parsley and olive oil. A more subtle marinade that's a great option for children as well.
Please note, this product requires 48 hours notice.
Roast the chicken breast in a preheated oven of 180°C for 25 minutes.
Our chickens are free range and slow reared to the highest welfare
standards. Their natural, hormone-free diet consists of responsibly sourced local
grains and cereals, which translates directly to the tenderness of their meat.
Allergen Advice: For Allergens, including cereals containing gluten, see highlighted ingredients. Also may contain Gluten, Crustaceans, Egg, Peanut, Milk, Nuts, Mustard, Sesame, Celery, Soya, Sulphites and Molluscs.
Ingredients; Chicken, French Garden (Vegetable Oil, Garlic, Onion, Salt, Natural Flavorings, Peppers, Chives, Dill, Parsley, Tarragon, Rosemary, Mono Sodium Glutamate)