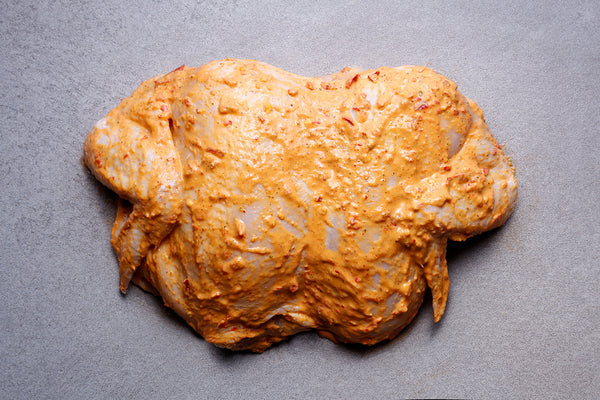 Peri Peri Marinated Boneless Chicken
Chicken
Satisfy your spicy cravings with our peri peri marinated boneless chicken. This fiery marinade is smothered over a free-range boneless chicken, guaranteeing super juicy meat packed full of sweet, sour and spicy flavours! 
Each chicken weighs approximately 1-1.1kg
Please note, this product requires 48 hours notice.
Skewer your chicken using at least 3-4 metal skewers, so that it's easy to turn whilst cooking. Place the chicken onto the BBQ, with a medium heat, skin side up. Close the lid, cook for 5 minutes, turn the chicken over and repeat. Be careful the coals are not too hot as the skin side will burn easier. After the 10 minutes reapply some of the Piri Piri marinade and cook for a further 5 minutes on each side. Leave to rest for 8-10 minutes. Squeeze some fresh lemon over, slice in strips and serve.
Our chickens are free range and slow reared to the highest welfare
standards. Their natural, hormone-free diet consists of responsibly sourced local
grains and cereals, which translates directly to the tenderness of their meat.
Allergen Advice: For Allergens, including cereals containing gluten, see highlighted ingredients. Also may contain Gluten, Crustaceans, Egg, Peanut, Milk, Nuts, Mustard, Sesame, Celery, Soya, Sulphites and Molluscs.
Peri peri marinade ingredients: Dried red chilli, fresh red chilli, red wine vinegar (Sulphites), lemon juice, garlic, shallot, piri piri seasoning (garlic, onion, chilli, black pepper, sea salt, basil, oregano, coriander, bay leaf)
Sulphites