Leftover Haggis Scotch Egg
A delicious scotch egg with a soft, creamy yolk, an epic way of using up any leftover haggis, neeps and tatties.
A delicious scotch egg with a soft, creamy yolk, an epic way of using up any leftover haggis, neeps and tatties.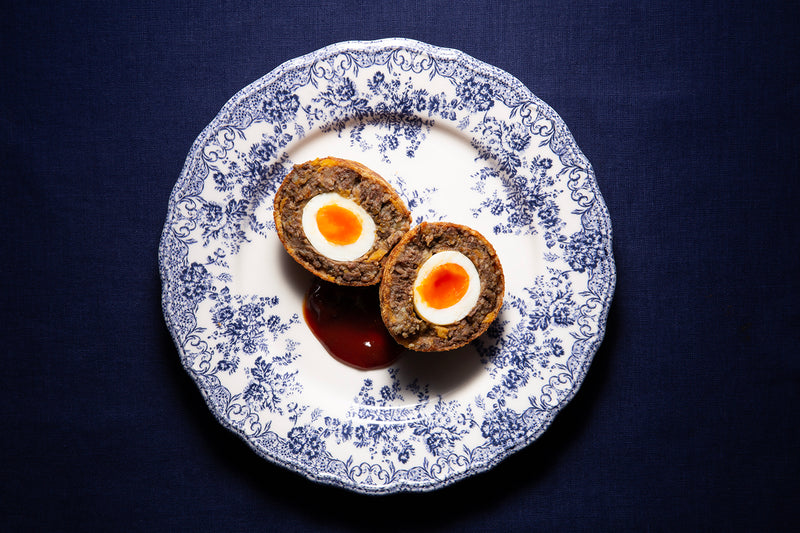 ---
This scotch egg uses the leftovers from our haggis, neeps and tatties recipe
Please ensure that your neeps and tatties are well cooked, so they can be easily moulded in your hands. This will make it much easier to form the shape of the scotch egg.
Bring a medium pan of water to the boil, drop three eggs in and cook for 7.5 minutes. Once cooked, remove from the boiling water and run under cold water for around 5 minutes, until the eggs are fully chilled. Carefully peel the eggs and set to one side.
Using your hands, combine your neeps, tatties and haggis together. Be careful not to mix them too much as it's nice to see all the separate ingredients once the scotch egg is cut.
You'll need roughly 60/70g of the haggis mix to wrap one egg. Weigh these out and roughly shape into a ball. Now flatten them to resemble a burger patty (it should be roughly double the width of the egg). Whilst holding the flattened mix in one hand, place the egg in the centre and carefully wrap the mixture around the egg. Use your fingertips to bring together the seams of the haggis patty, role in your hands to create a well rounded scotch egg shape, cover and leave to set for one hour in the fridge.
You'll now need three small bowls and a tray ready to bread the eggs. In the first bowl, sprinkle enough plain flour to coat the eggs with a pinch of table salt. The second bowl will have the remaining 2 eggs, whisked. Place the breadcrumbs and a pinch of salt in the last bowl. Take the wrapped eggs out from the fridge, roll the first one in the flour until fully coated, drop in the egg mix, and gently move around to make sure egg is covering the entire surface. Using a different hand, remove the egg and drop in the final bowl of breadcrumbs. Try to avoid touching the egg until the breadcrumbs have coated it completely. Moving the bowl around in circular motions to coat the egg rather than moving with your hands tends to work better.
Using a deep fat fryer or a deep saucepan, pour the vegetable oil into the pan (enough to cover the egg), and heat up to 170 °C. Once the oil is up to temperature, carefully place the egg into the pan and cook for 4-4.5 minutes, until the scotch egg is golden brown. Leave to rest for at least one minute before cutting. Serve with piccalilli or a fat dollop of brown sauce.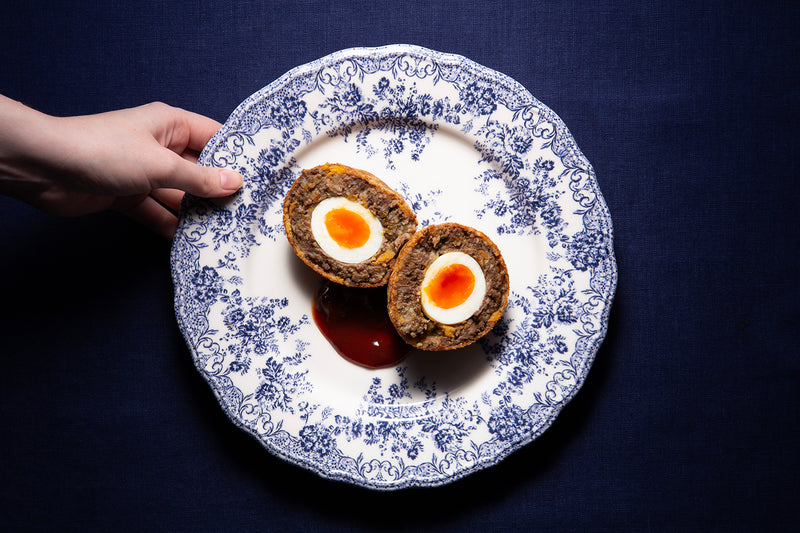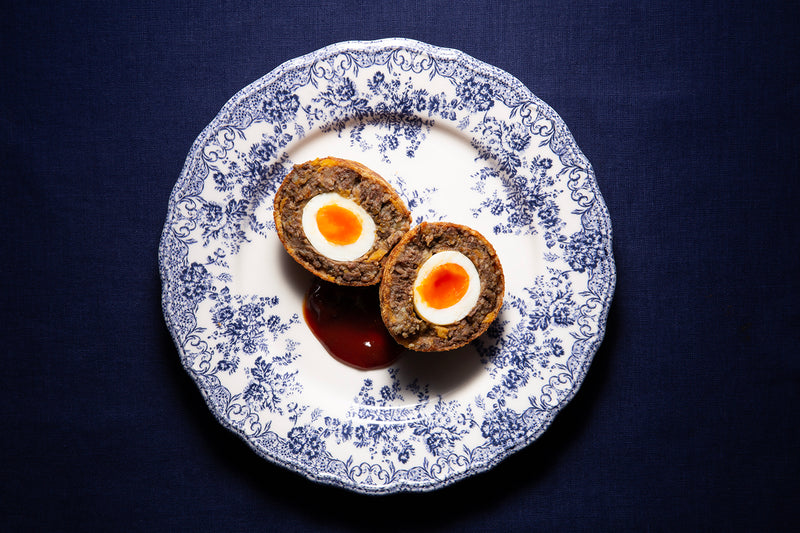 Recipes we think you'll love: