Leftover Lamb, Ricotta Gnocchi, Spring Veg & Parmesan
This dish is wonderfully tasty and perfect for using up leftover lamb!
Gnocchi can sometimes be very tricky to make but this recipe for ricotta gnocchi is incredibly easy and satisfying to make. Prepare the gnocchi in advance and store in the fridge a day or two or the freezer, covered, for up to a month.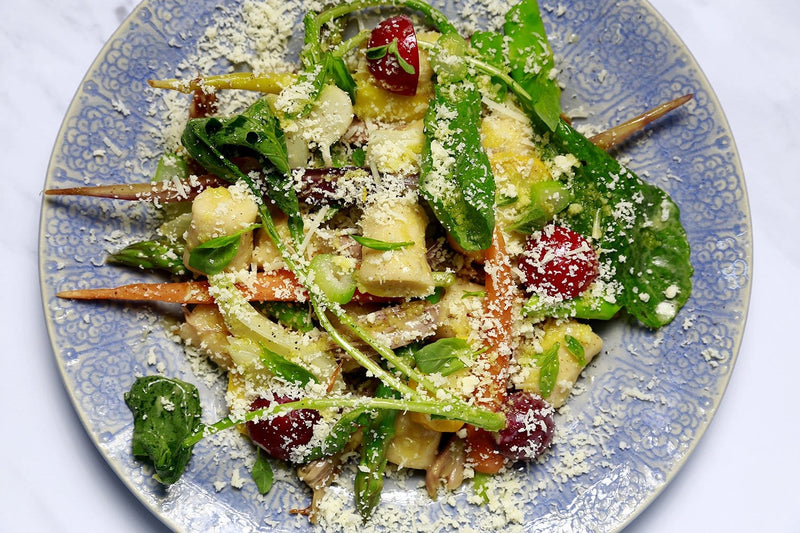 For the gnocchi:
---
Perfect for using up your leftover lamb from our Lamb Shoulder with 'Nduja, Rosemary and Garlic. 
To make the gnocchi, thoroughly beat together all the ingredients using a wooden spoon and season with salt and pepper.
Divide the mix into 60 even sized pieces and roll them into balls.
Store them on a tray, cover them with clingfilm and keep them in the fridge or freezer until required.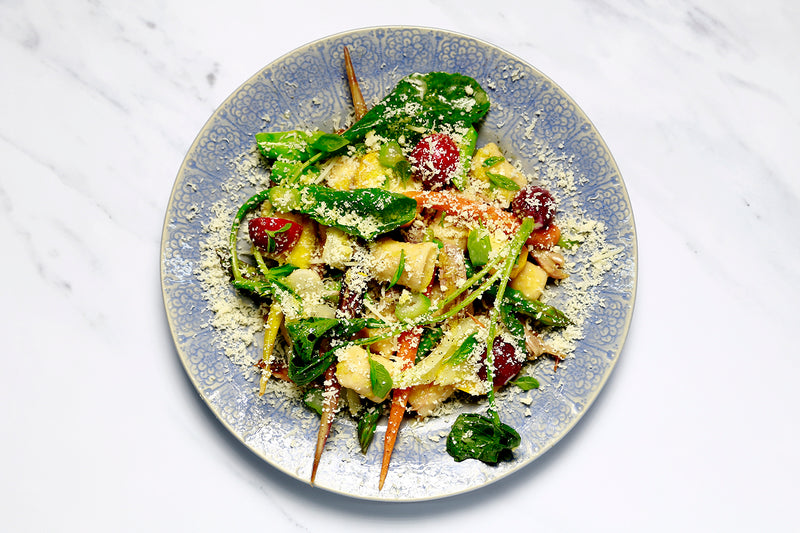 For the finished dish:
---
The remainder of any meat leftover from the lamb shoulder, shred into small pieces.
500g of mixed spring vegetables of your choice, cut into similar sized pieces (peas, broad beans, baby carrots, radishes and courgettes all work well and the addition of foraged herbs like wild garlic will make this dish really special).
Warm the lamb with the butter in a large sauté pan while you cook the vegetables.
In a pot of boiling salted water, blanch the spring vegetables for 30 seconds or so, until they are al-dente. Drain them well and add them into the pan with the lamb.
Drop the gnocchi into the boiling water and cook them for about two minutes, you will know they are cooked because they will begin to float.
Drain the gnocchi well and add them into the pan with the lamb, vegetables and butter.
Toss everything together with the thyme, mint leaves and season with sea salt and freshly cracked black pepper.
Transfer into a large, warm serving dish and scatter over the Parmesan and finish with a little extra virgin olive oil and serve in the middle of the table.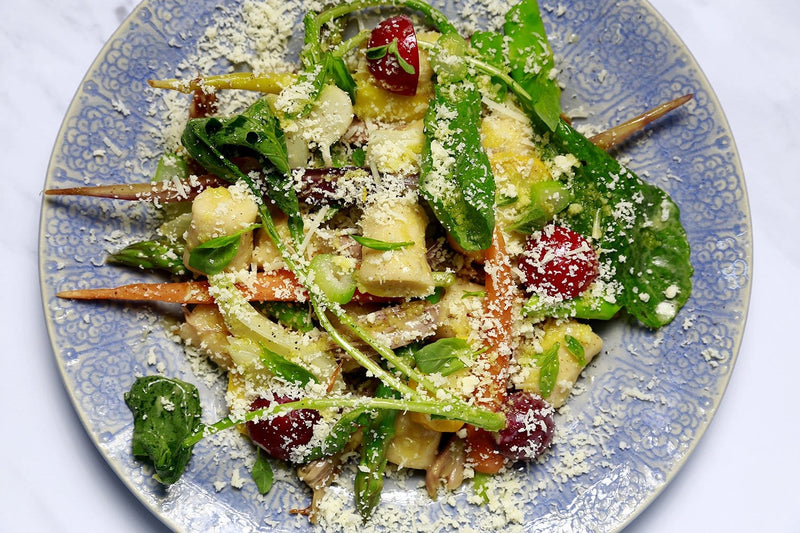 Recipes we think you'll love: