Venison Wellington
Venison loin wrapped in duxelle mushroom paste and Parma ham for a delicious wellington!
Venison loin wrapped in duxelle mushroom paste and Parma ham for a delicious wellington!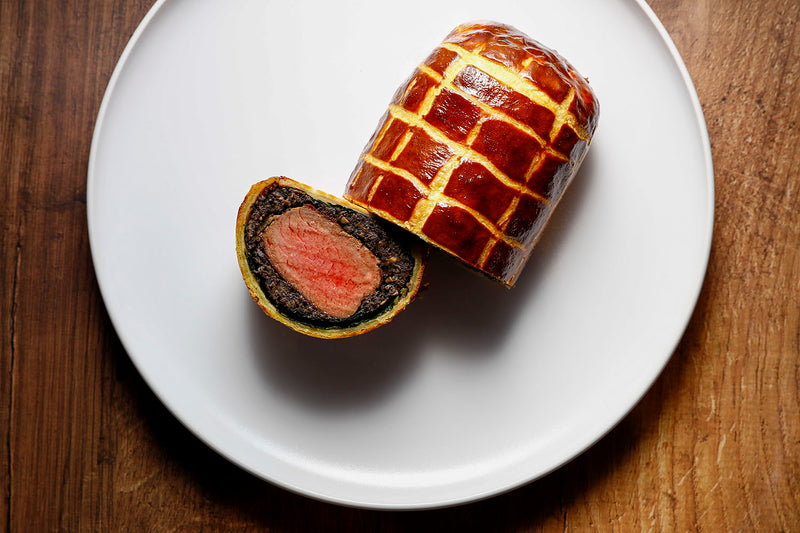 For the mushroom duxelles:
---
For the mushroom duxelles, start by finely dicing the shallot and garlic, then sweat them in a pan over a gentle heat with thyme and a pinch of salt.
Meanwhile, blend the mushrooms until they turn into a rough paste and add them to the pan with the garlic and shallot. Cook the mixture on a low heat until all the moisture has evaporated, and the paste has become firm.
Season to taste and leave it to cool to room temperature. You could also add a drop of white truffle oil to this to make it even more special.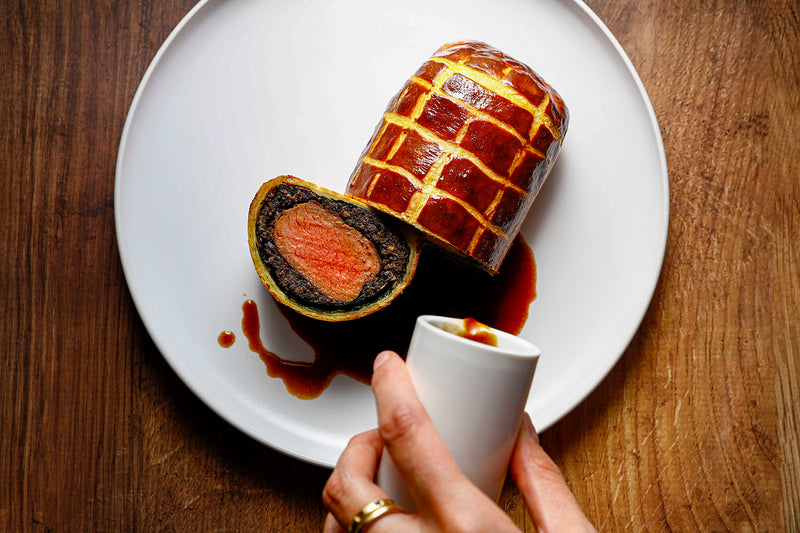 To assemble the wellington:
---
First, season the loin all over with salt and cracked black pepper and sear it in a hot pan for about 1 minute on each side to caramelise the venison, sealing in it's juices and flavour. Leave to cool to room temperature.
Once the meat has cooled down to room temperature, you can begin to assemble the wellington. Line your chopping board with a double layer of cling film (to help roll the duxelles and ham around the loin) and lay out your sheets of Parma ham so that they overlap each other by about 1cm.
Spread the duxelles carefully over the Parma ham in a thin layer and place the sealed fillet in the middle.
Use the edges of the cling film to carefully wrap the layer of ham and mushroom around the meat, then roll in the cling film and firmly tie the ends to make sure they are as firm as possible and leave it to rest in the fridge for around 1 hour. 
Lay the pastry sheet out on your work bench, remove the cling film from your wrapped venison and place it in the middle of the sheet. Fold the bottom half of the pastry sheet over the top and lightly brush the pastry edges with egg wash and roll it around the fillet, gently, but firmly, folding the ends in to create a sealed parcel.
Once fully covered in pastry, brush the wellington with the remaining egg wash and rest it in the fridge for a minimum of 1 hour before cooking. 
Finally, pre heat the fan assisted oven to 220°C/gas mark 7 and bake the wellington for 30-40 minutes (30 minutes giving a nice, rare finish). Leave it to rest on a cooling rack for roughly 20 minutes before slicing with a serrated knife and serving.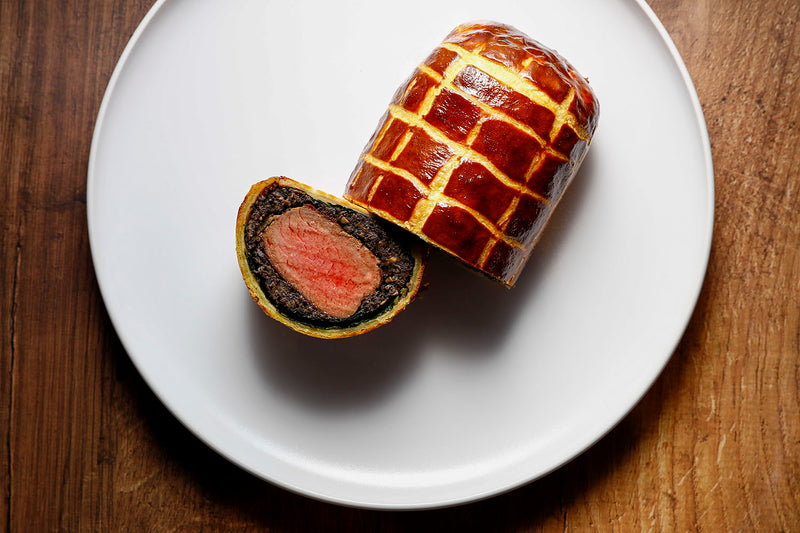 Recipes we think you'll love: