Lamb Tongue Flatbreads
Warm, sticky lambs' tongue with a fresh garlic yoghurt dressing and homemade flatbreads, the ultimate nose-to-tail dish that's
 an HG dinner-party staple!
Warm, sticky lamb tongues with a fresh garlic yoghurt dressing and homemade flatbreads, the ultimate nose-to-tail dish that's an HG dinner-party staple!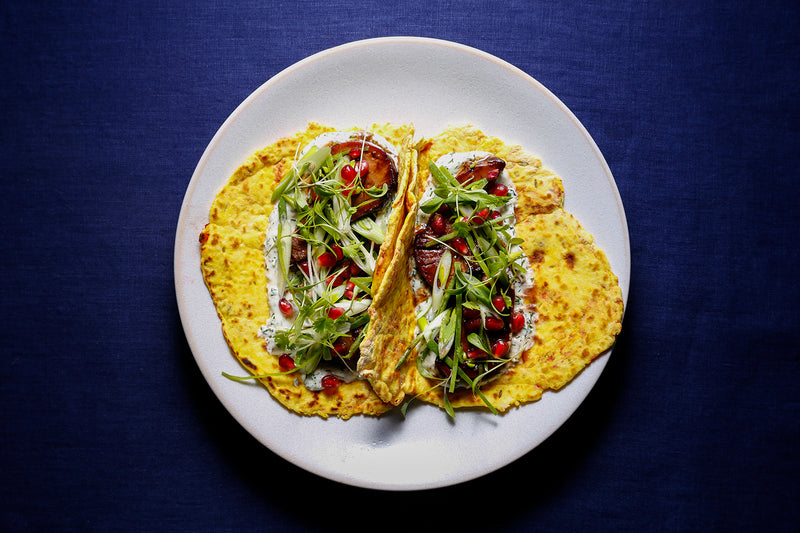 What you'll need
Kitchen scales
Sharp knife
Deep-based casserole pot
Nonstick frying pan
Sieve
Medium-sized mixing bowl
Medium-sized frying pan (cast iron if possible)
Rolling pin
Soft touch knife
---
Preheat the oven to fan 150°C/gas mark 2.
Roughly chop the carrot, shallot and celery, crush the garlic cloves and set to one side. In a mixing bowl, season your lamb tongues generously with salt and pepper, then mix until each tongue is fully seasoned.
Put the casserole pot on a high heat, add a splash of oil and wait until the oil starts to smoke slightly. Add the seasoned tongues and brown on all sides. Once browned, remove from the pan and add the chopped vegetables, along with the rosemary sprigs. Cook for a few minutes or until the vegetables start to brown. Add the red wine, lamb stock and cover the tongues with water if needed. Bring the pot to the boil and cover with a lid or tightly folded foil. Place in the oven and cook for 2.5 hours.
Next, make the flatbread dough. Add all the dry ingredients into the mixing bowl and stir to fully combine. Add the Greek yoghurt and olive oil, then start to bring the dough together using a spoon. Once it starts to form a rough, shaggy dough, use your hands to start working it into a smoother dough. Don't over knead! Just work enough to bring the ingredients together. Divide this into 6 balls, cover and leave to rest in the fridge for at least half an hour. 
After 30 minutes, lightly flour the surface and gently roll out each ball. Try and aim to roll them to roughly the same width as a 50 pence piece.
Place a heavy based or cast iron pan on high heat. Once the pan is very hot, add the rolled flatbread. Once it starts to bubble, it's time to flip over! It should take just under a minute on each side. If it's not coloured enough, try increasing the heat in the pan slightly before adding the next flatbread. Once cooked, cover with a cloth so they don't dry out before serving.
For the garlic dressing, combine all the ingredients together and season to taste. Add more a touch more Tabasco if you like a fiery kick!
After 2.5 hours cooking, remove the pot of tongues from the oven and leave uncovered for 15-20 minutes to cool slightly. Once the tongues are cool enough to handle, gently peel off the outer layer of skin (if the tongues are still warm they should come off easily). Using a soft touch knife can really help with this. We cut the tongues lengthwise, but you can cut them into small chunks if you'd prefer.
Pass the cooking liquor through a sieve and return to the pot. Place back on a medium heat and reduce until it starts to thicken slightly. Fry the peeled and chopped tongues in a nonstick pan with a little oil. Once nicely coloured and slightly crispy, add the remaining stock from the previous step and continue to reduce to a thick, sticky glaze.
To assemble, gently warm the flatbreads in a pan or under a grill if they're not still warm. Spread with a good dollop of the yoghurt dressing, top with the warm, sticky lamb tongues and garnish with pomegranate seeds, sliced spring onions and mange tout for a little added crunch!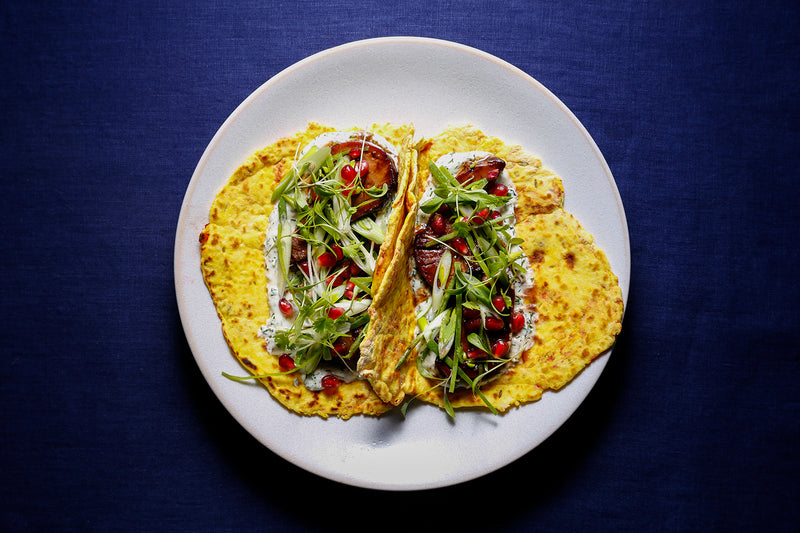 What you'll need
Kitchen scales
Sharp knife
Deep-based casserole pot
Nonstick frying pan
Sieve
Medium-sized mixing bowl
Medium-sized frying pan (cast iron if possible)
Rolling pin
Soft touch knife
Recipes we think you'll love: