Beef Fillet Steak with Truffle Mash and Red Wine Jus
HG Walter
Perfectly cooked fillet steak with mouth-watering truffle mash and red wine jus! Ideal recipe for your date night.
Cooking Method:
---
First, pierce the potatoes using a small knife, place them onto small mounds of salt and bake for 1.5 hours at 160°C. Once cooked, cut the potatoes in half, scoop out their flesh and push it through a fine sieve.
In a small saucepan, bring the double cream and butter to the boil and reduce by a third. Then, slowly add the mixture to the mash potato ensuring it is fully incorporated.
Next, add the truffle paste and truffle oil together and adjust the seasoning to your taste with salt and pepper. Set it aside until you are ready to plate up.
For the red wine sauce, start by heating a heavy based saucepan with a little bit of oil, then add the chopped shallots, crushed garlic cloves and thyme sprigs and cook them over a high heat until golden brown. The more colour you get into the vegetables the darker and richer your sauce will be.
Next, turn the heat down and add the tomato puree to the pan, cooking it for around 2 minutes before adding the red wine.
Reduce the sauce until most of the red wine has evaporated, then add the beef stock and reduce it by half. Once reduced, pass the sauce through a fine sieve and set aside.
Take the steaks out from the fridge and bring them to room temperature before cooking.
For the steaks, start by preheating a large griddle or heavy based pan, rub a little oil into the steak and season well with salt and pepper. Once the pan is smoking hot, sear the steak for around 60 to 90 seconds on each side and then repeat the process with the steak at a different angle to achieve the bar effect (if you're using a griddle pan).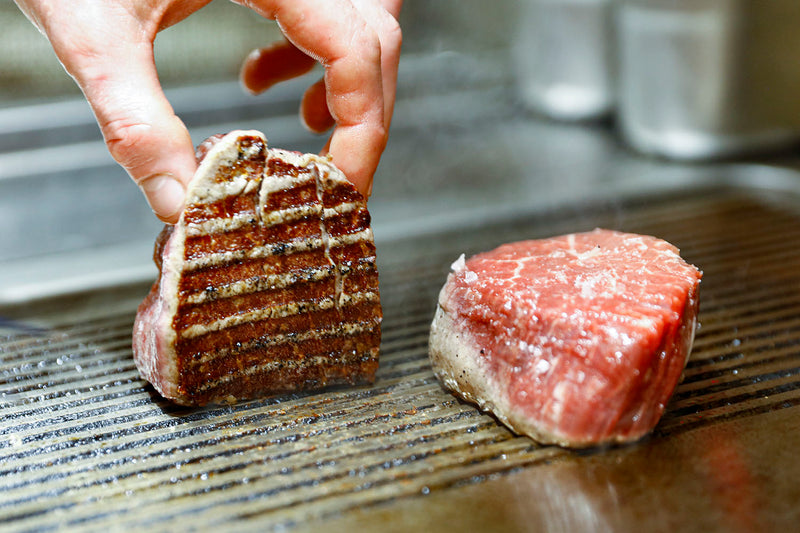 Next, cook the steaks in a pre-heated oven at 160°C for 3 minutes if you prefer a rare finish, 5 minutes if you a fancy medium finish and 6 minutes for a well-done finish. Place the cooked steaks on a plate and cover them with foil for 5 minutes to rest before serving.
In the meantime, heat up the mash potato and red wine jus before serving with your perfectly cooked fillet steak.