Pork Belly Porchetta with Buttered Potatoes
Our porchetta recipe 
guarantees 
for a succulent and mouth-watering 
joint
 with extra crispy crackling -
 a fantastic option for a dinner party centrepiece!
Our porchetta recipe guarantees for a succulent and mouth-watering joint with extra crispy crackling - a fantastic option for a dinner party centrepiece!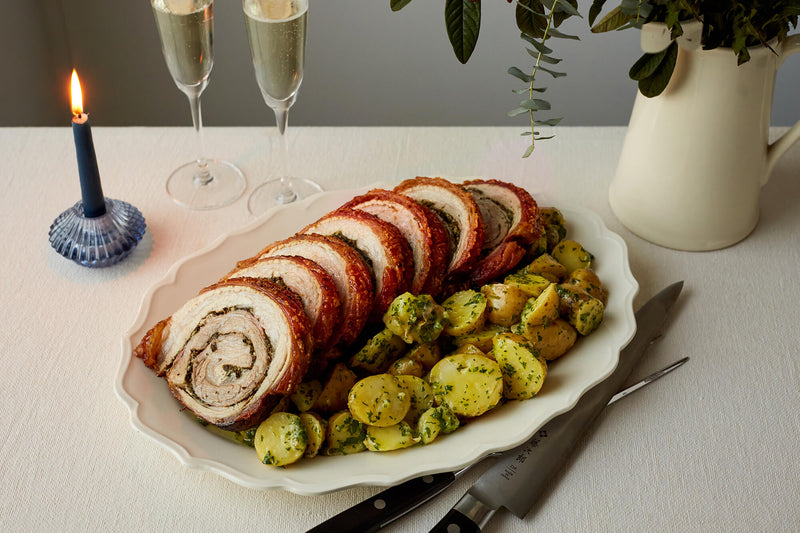 For the Porchetta
---
Start by removing a third of the skin from the belly, so that when you roll it, only the outer layer will have skin. Using a very sharp knife or razor blade, score the skin. Turn the belly over so the skin is facing down, and carefully butterfly the flesh, increasing the surface area. Set to one side.
Peel and finely chop the garlic along with all the picked and washed herbs. Spread along the inside of the butterflied belly and pat down with your hands to stick it to the meat. Season well with salt and plenty of cracked black pepper.
Roll the belly so that the skin is exposed as the last layer on top of the joint. Tie well and evenly with string along the belly and pat dry.
Lightly oil and season the outside of the joint, ensuring you put extra salt on the skin to help make extra crispy crackling!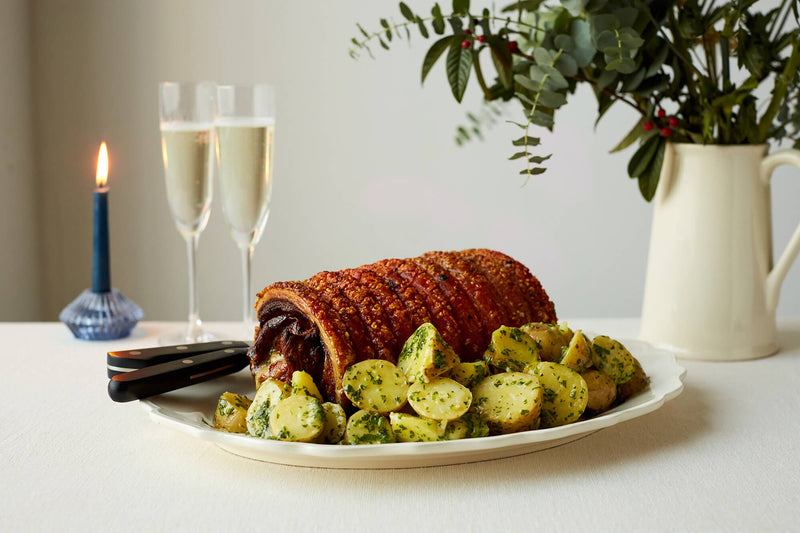 Roast in a preheated fan assisted oven at 220°C/gas mark 7 for 25 minutes before dropping the temperature down to 150°C fan/gas mark 2. Cook for a further 90 minutes. Rest for 20 minutes before removing the string and carving.

For the Buttery New Potatoes
---
Slice the potatoes in half and boil in salted water for 10 to 15 minutes, until cooked. Once cooked, drain and leave to steam dry for 10 minutes.
In a pan, bring the chicken stock to a boil, then reduce by half. Whilst the stock is boiling, add the butter in small knobs until fully incorporated with the stock.
Add the sliced potatoes to the pan and the chopped parsley. Simmer for a few minutes until the potatoes are nicely glazed with the buttery emulsion.
Season to taste and serve with the porchetta.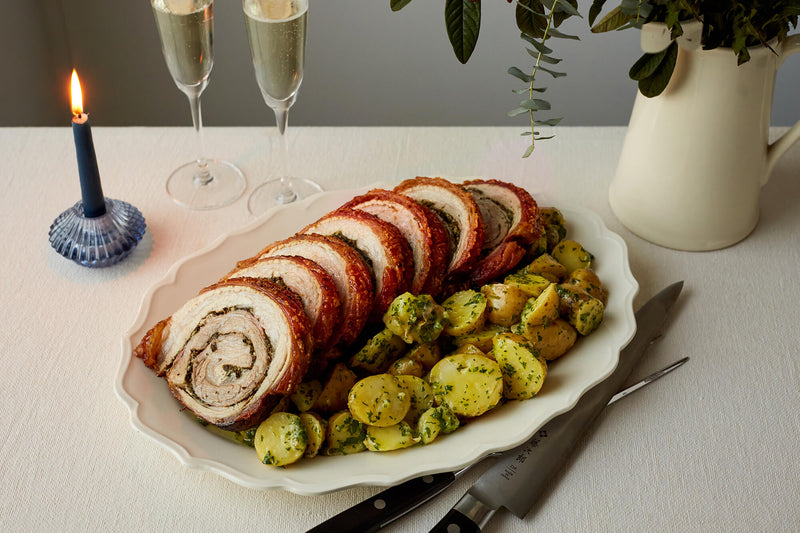 Recipes we think you'll love: