Turkey and Parmesan Dumplings in Ham Broth
Ham broth with picked ham hock, turkey and parmesan dumplings and quails eggs.
Wonderfully warming ham broth with picked ham hock and parmesan dumplings.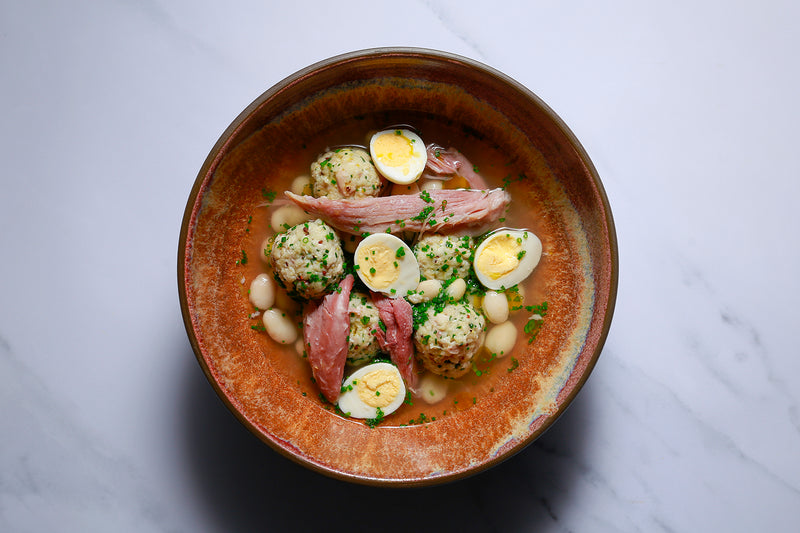 For the ham and broth:
---
Place the ham hock in a medium sized, deep pot and cover fully with cold water. Bring to the boil and immediately discard the water.
Cover the hock again with enough fresh cold water to cover by 2cm, adding the carrot, onion, celery, garlic and thyme and bringing to a boil. Once boiling, turn the heat down to medium and simmer for 2.5-3 hours or until the meat is falling away from the bone.
Leave to cool for 45 minutes in the stock before picking. Pick into nice big chucks making sure to remove fat and connective tissue. Set the meat aside, pass the remaining ham stock through a fine sieve and save for the broth. 
For the dumplings, combine the turkey mince with the egg, breadcrumbs, shallot, mustard and half the chopped chive. Mince together well and roll into small ball shaped dumplings. Put to one side.
For the quail eggs, bring a pan of water to the boil and gently lower the eggs in. Cook for 2.5 minutes and remove immediately, put into a bowl under running cold water for 2 minutes before carefully peeling and halving the eggs.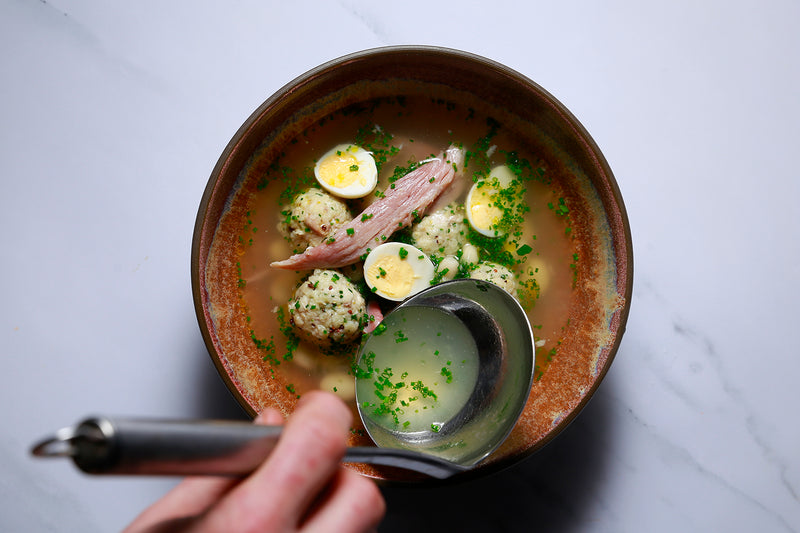 To assemble:
---
Bring the stock to a simmer and gently place the dumpling in, cooking on a medium low heat for 5-6 minutes. Now add the chunks of picked ham hock and white beans and cook for a further 2 minutes to reheat. Finish the dish with the remaining chopped chives, and halved quail eggs, seasoning to taste.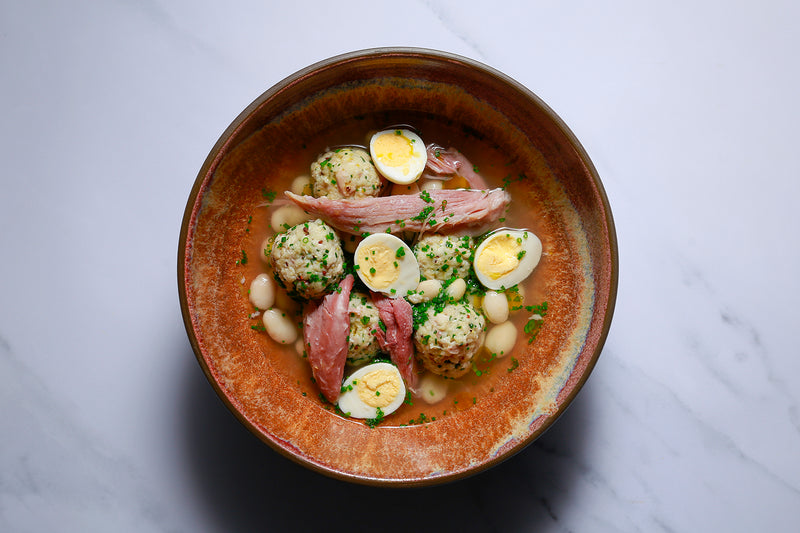 Recipes we think you'll love: