Leftover Roast Beef Ramen
Spicy roast beef ramen with udon noodles and 
a fiery homemade chilli sauce
, 
an epic way of using up leftovers from your Sunday lunch!
Spicy roast beef ramen with udon noodles and a fiery homemade chilli sauce, an epic way of using up leftovers from your Sunday lunch!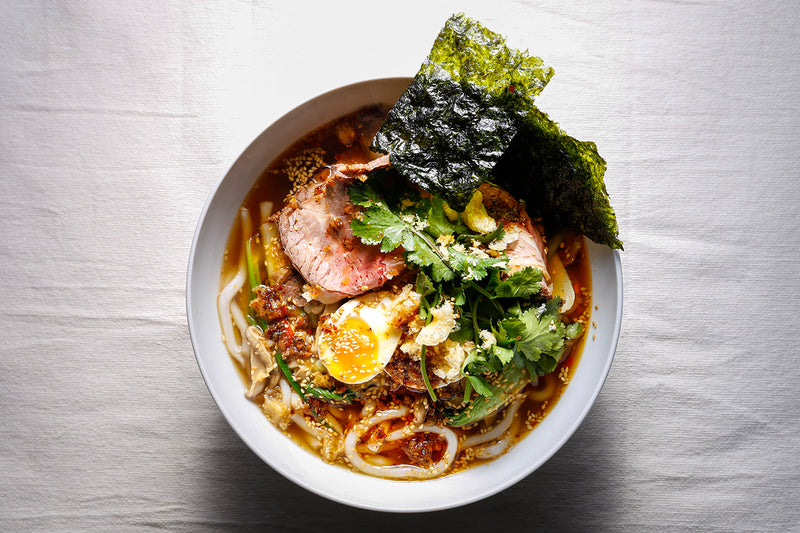 What you'll need
Sharp knife
2 medium saucepans
1 small saucepan
Sieve
Ladle
---
If you have some bones leftover from your roast beef joint, roast them in the oven for 20 minutes at fan 180°C/gas mark 4 to give an even browning all over. Once browned, place your roasted bones in a saucepan along with the rest of the stock ingredients. You may need to add a little water to the stock to make sure everything is fully covered. Try using a taller but narrower pan to avoid this. Bring the stock up to a low rolling boil. Simmer for 1-2 hours then pass the stock through a sieve. Check for seasoning, adjust accordingly and set aside until ready to assemble the dish.
Bring a pan of water to a boil, add the eggs and cook for 7 minutes. After this time, run under a cold tap to stop the eggs from continuing to cook further. Peel and set aside for later.
To make the chilli oil, in a heat-proof ramekin, add all the ingredients apart from the soy, vinegar and sugar. Heat the oil to 180/200°C. Carefully pour the hot oil over the ingredients in the ramekin. Make sure the ramekin is deep enough as the oil will boil up as it combines with other ingredients. Once the bubbles have died down, add the soy, vinegar and sugar. Mix until the sugar has fully dissolved. This can be kept for up to a month in the fridge (and is epic over some spicy chilli noodles)!
To assemble the dish, gently bring the stock back to a boil. Add in the vegetables and cook on a low heat until the vegetables are tender. We chose these vegetables because they all cook at a similar time. You can use other vegetables that you prefer, just bear in mind the cooking times when deciding. Bring another pan of water to a boil. Once boiling, add the udon noodles and cook for 3-4 minutes. Once cooked, drain and add to your serving bowl. Ladle over the hot ramen stock, along with the cooked vegetables. Add the thinly sliced beef (the heat from the hot ramen should be enough to heat the beef perfectly). Garnish with the halved egg, chilli oil, seaweed crisps, pork scratchings, toasted sesame seeds and fresh coriander, then slurp away on all that rameny goodness!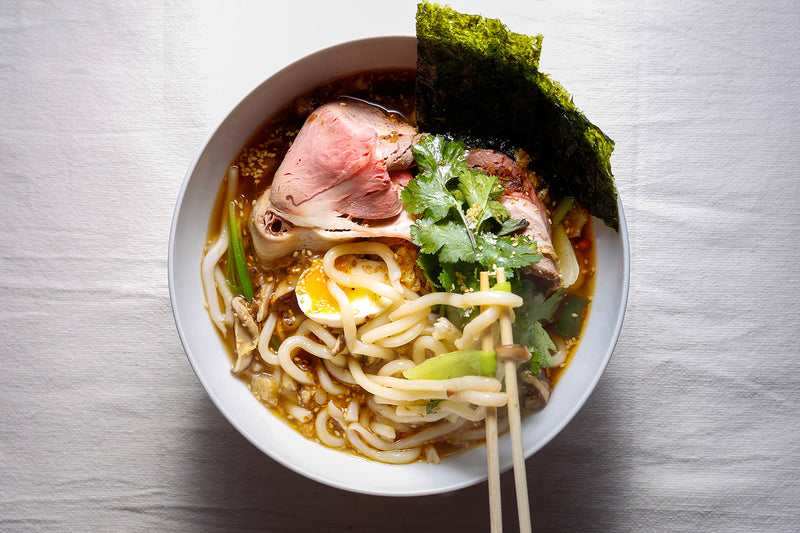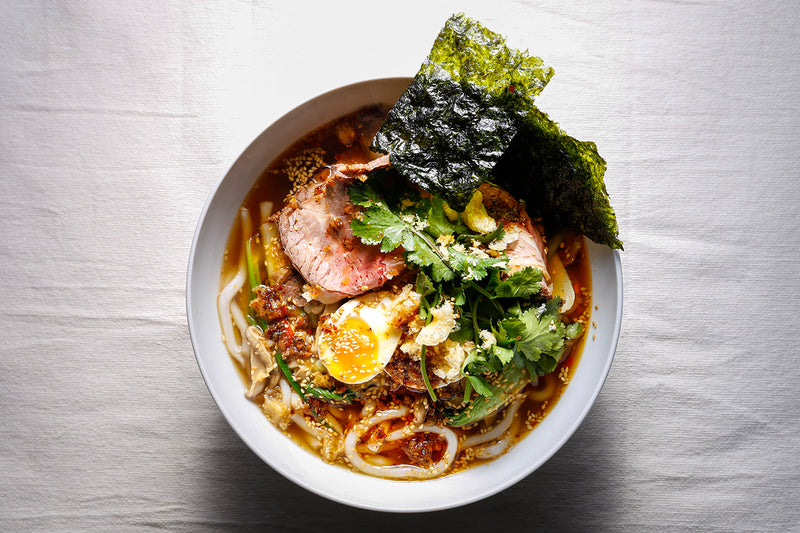 What you'll need
Sharp knife
2 medium saucepans
1 small saucepan
Sieve
Ladle
Recipes we think you'll love: