Brined & Roasted Turkey
HG Walter
The ultimate Turkey recipe for your family showstopper!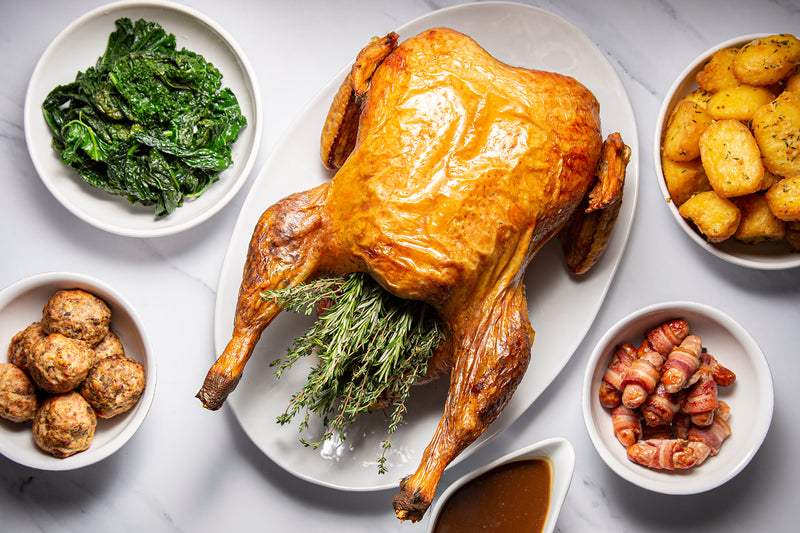 Method:
---
Because the legs take much longer to cook than the breast, it's a good idea to truss and brine your turkey. Brining adds flavour to the meat but also helps to retain the moisture in the breast, whilst the legs are cooking. 
To make the brine put all the ingredients into a large pot and bring it up to the boil.
Remove it from the heat and allow the liquid to cool slowly until it reaches room temperature before putting it into the fridge to cool completely.
Allow the brine to marinate for 24 hours before passing it through a fine sieve to remove the pieces.
To brine the turkey, place the bird into a strong freezer bag or food-safe zip lock bag that is just a little bit larger than your turkey and pour in the brine. Squeeze out as much air from the bag before sealing it closed.
Brine the turkey for 12-18 hours depending on the weight of the bird, move the turkey around in the bag half way through. For a 4.5 kg turkey you should brine for around 12 hours.
Carefully remove the Turkey from the brine and discard the liquid and bag.
Gently wash the turkey under cold running water to remove the excess brine from the surface of the bird and then pat it dry with kitchen paper and place it on a wire rack above a roasting tray until you roast it.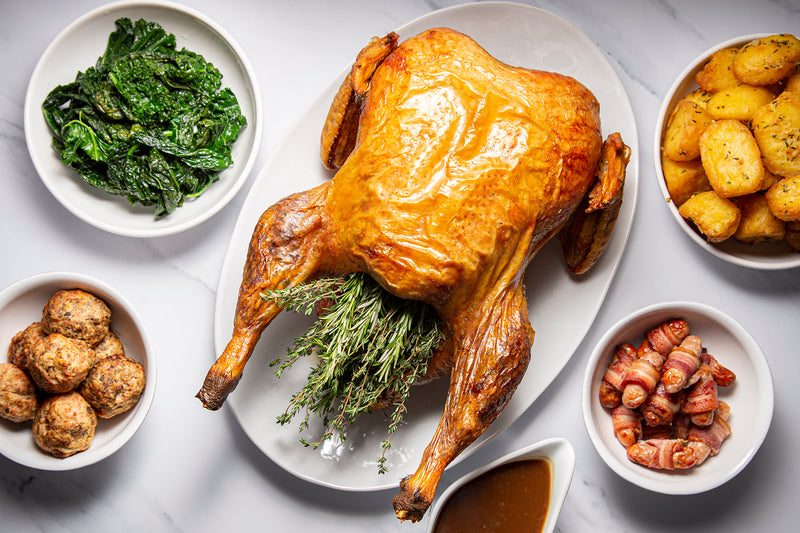 To roast the turkey
---
Preheat your oven to 220°c / Gas mark 7. Place the onions, oranges and lemon into the cavity. Using a brush, generously coat the turkey all over with soft butter.
Roast the bird in the oven for 20 minutes then remove from the oven and baste it.
Return the turkey to the oven and reduce the temperature to 180°c / Gas mark 4. Continue to roast for 1 ¾ hours, basting every 30 minutes with the fat from the tray. The cooking time is calculated at 30 minutes per Kg.
The temperature of the turkey should reach 72°c / 162°f - You can check this with a digital temperature probe by inserting the probe into the thickest part of the leg. Alternatively you can insert a skewer and check if the juices run clear. If the juices are pink continue cooking for 15 minutes and check again. Repeat this process until the bird is cooked.
Once cooked, rest the turkey for at least 30 minutes before carving.